Academy Alumna Helps Individuals with Albinism
To support people with albinism, Arzoo Rajpar, class of 2018, started Tuko Pamoja, an organisation empowering individuals in Tanzania with albinism to be confident with themselves and feel comfortable in their own communities.
"We aim to empower and uplift people with albinism by promoting body image positivity, providing life skills and confidence training," Arzoo said. "We have moved beyond simply creating awareness, to ensuring that the individuals we work with are ambitious, motivated and ready to reach further and keep pushing for their place in society."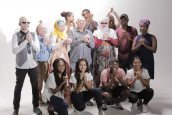 Tuko Pamoja has hosted a photoshoot and video shoot to boost the confidence of individuals with albinism.Started in June of 2018, Tuko Pamoja has had two events so far. The first event focused on creating "body image positivity" through a photoshoot and video shoot, whereas the second event was an art gallery and concert, which included Tanzanian Kenyan artists, such as Kaskazini.
Arzoo said all proceeds from the art gallery and concert will go to providing sunglasses, sunscreen and hats to 200 people with albinism. She said these products will protect them from the sun and reduce their risk of getting skin cancer, which many people with albinism are prone to get due to the lack of melanin in their skin, eyes and hair.
"We would like to make this an ongoing project, eventually selling these products at low prices or providing them free of cost depending on the individual's financial situation," Arzoo said.
Aside from providing resources for these people, Arzoo said she is also in the process of finding jobs for four individuals she is currently working with.
"This will also be an ongoing project where we move from one group to the other," Arzoo said. "We hope that eventually the people we have trained can take the responsibility of training other people with albinism, thus creating a cycle of empowerment and motivation."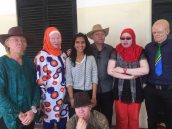 Arzoo Rajpar with individuals from Tuko Pamoja.Although she has provided support to individuals with albinism and hosted events to help them, Arzoo said the best way to have the Tuko Pamoja initiative succeed is to work closely with her home country of Tanzania.
"We hope to partner with Tanzanian companies and organisations to help us procure enough funds as well as donations to achieve our goals," Arzoo said. "After all, this is a cause that all members of the Tanzanian community should be engaged in."
Check out Arzoo's TEDx Talk to learn more about her passion for helping those with albinism.
By Anusha Lalani