Academies partner project awarded UNESCO literacy prize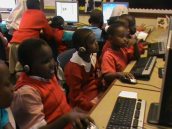 On 8 September, 2017, the United Nations Education, Scientific and Cultural Organization (UNESCO) will be awarding five major International Literacy Prizes to mark International Literacy Day. One of the recipients is Concordia University's Centre for the Study of Learning and Performance (CSLP), which has been working with the Aga Khan Academy Mombasa as its lead partner on an initiative to use educational technology to develop essential educational competencies in sub-Saharan Africa.
The ceremony will be held at UNESCO's headquarters in Paris, France. The prize, which comes with a $20,000 cash award, acknowledges the work done by CSLP and its partners on developing and implementing the Learning Toolkit (LTK+) — a suite of interactive, bilingual multimedia tools available free to the education community — in Kenya.
Congratulations to our partners at CSLP and to our team at the Aga Khan Academies!
Click here to read more on Concordia University's website.
Click here for more information on UNESCO's 2017 International Literacy Prizes.