Aaryan Ajani: The 2020 Aga Khan Academies - Concordia University Program
AKA Mombasa's Class of 2020 received prestigious scholarships worth over USD $6 million to attend reputable universities worldwide. The highly competitive, need and merit-based scholarships are awarded to outstanding students who have shown exceptional academic strength, leadership skills, and involvement in community service, co-curricular activities and student affairs. Over the next few days, we will highlight some of the recipients.
Aaryan Ajani, who joined the Aga Khan Academy Mombasa in 2016, received one of four scholarships by the Aga Khan Academies to Concordia University to study Politics and Economics.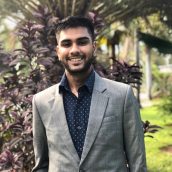 Aaryan Ajani.For Aaryan, receiving the scholarship came as a huge relief. "It was quite intense having to deal with such uncertainty, especially because I knew there were other students who were equally deserving of the opportunity," Aaryan said. "When I got the news, I felt like a huge weight had been lifted off my shoulders because I knew my future is potentially secured."
Aaryan believes the immense growth he exhibited during his two years in the International Baccalaureate Programme is why he was selected as one of the recipients of the scholarship. "Through the Academy's extra-curricular scheme, I got to develop my leadership skills in the Service Learning programme as well as a soccer coach and member of the Student Representative Council. Academically, I was able to identify my weaknesses and worked really hard to make sure I was able to succeed as an all-round student," Aaryan said.
Looking forward to life at university, Aaryan intends to make the most of this opportunity to succeed. "I personally believe that every student is remarkable and has the potential to achieve anything at their own means," Aryan said. "I consider this a massive stepping stone to the greater things I can achieve in the future and I will always be grateful for my life-changing experience at the Academy."