Soraiya Merali: At Home in Her New School
"The teachers here make it their priority that you know what you are doing and that you understand the work."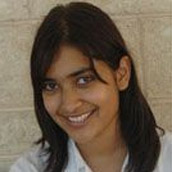 Nairobi native Soraiya Merali came to Mombasa in January of 2008 to join the Aga Khan Academy Mombasa. It was her mother's desire to see her complete the IB Diploma Programme at the Academy. Leaving her friends behind in the middle of the year made the 11th grader very sad, and she was not sure what to expect at her new school. She was heartened by the very warm reception she received at her new school. "People here make you feel right at home, like you are one of them," says Soraiya. "I never actually felt like the odd new girl when I came."
Soraiya feels that one of the major differences she sees at the Academy as compared to other schools is the environment at the Academy for easy interaction between students and teachers. "The teachers are all very friendly and you can go see them any time," Soraiya says. "They make it their priority that you know what you are doing and that you understand the work." Mr. Zubair Kassam, head of the English department, is Soraiya's favorite teacher because of his friendly nature and the fact that all the students in his various classes get treated exactly the same. "He goes out of his way to help us out and his classes are always very interesting," says Soraiya.
Soraiya has three favourite subjects: Arts, English and IT. "As a child, I was passionate about creative writing and spent many hours journaling," she states. "There was a time when I had my mind set on journalism because my uncle is in this field and I did some summer jobs for him. But after coming to the Academy, I want to keep my mind open for other options." After finishing her IB program, Soraiya hopes to go to a good university in UK and study English, Art, or Art History.
Soraiya tries to make time for her music. At lunch time when she has a few extra minutes, she goes and practices playing the piano. Soraiya loves the sports component at the Academy, especially badminton, tennis, basketball, and net ball, and participates whenever her schedule allows. She also belongs to the Model United Nations Club where they debate about global issues.
Despite the long days, Soraiya enjoys her time at school. She feels that the structure of the day allows students a chance to relax and catch up on pending work. "If I have questions, I can go see the teachers."
Soraiya, who stays as a paying guest at a friend's place, can't wait for the residential academy to be operational. "I always wanted to go to boarding school and this is my chance," she says with excitement. "I am looking forward to being closer to school. If I have to stay late and work on assignments or extra classes, I won't have to worry about catching the bus on time." If there is any issue at school, Soraiya knows just where to go. "At the moment we have mentors and my mentor is Coach Farhan Rauf. If I need his help in sorting something out, he assists me."
Soraiya admires His Highness the Aga Khan and is impressed by the fact that he has achieved so much in a relatively short duration of time. "He is kind and gentle and is very humble about the work he does. He spends a great deal of time helping others -- he sets an example for all of us."
Soraiya is looking forward to moving to the IB Diploma Programme and is not deterred by what it takes to complete the programme. "It's a lot of work but it opens up your mind and prepares you better for your future."