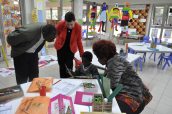 On 11 September, we were honoured to welcome Dr Joaquim Ernesto Matavele, a long-time friend and supporter of the Aga Khan Academy Maputo, when he came to visit the Academy and see the progress of the new Junior School campus.
Dr Matavele has been a senior official of the Ministry of Education since the mid-1980s, as well as Deputy Director for Teacher Training and Deputy Director of the National Institute for Education Development. He has recently been appointed by the government to work on restructuring the Pedagogical University.
It was a pleasure to learn more about the history of Matola and the early days of our Academy from Dr Matavele.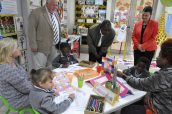 No passado dia 11 de Setembro, tivémos a honra de receber a visita do Dr. Joaquim Ernesto Matavele, um velho amigo e apoiante da Academia Aga Khan Maputo, que veio apreciar o progresso do novo Campus da Escola Primária.
O Dr Matavele é um colaborador sénior do Ministério da Educação, exerce a função de Vice Director da Formação de Professores e tamdém do Instituto Nacional do Desenvolvimento da Educação. Foi recentemente nomeado pelo governo para trabalhar na reestruturação da Universidade Pedagógica.
Foi um prazer aprender com o Dr. Matavel sobre a história da Matola e dos primeiros tempos da história da nossa Academia.