Student Reflections on Visit of "Canal de Mocambique"
By ALEXANDER P. DODS
Wednesday, May 6, 2015. This morning a Mozambican journalist came to visit the Academy's Grade 2 class. He works for a news agency called "CANAL DE MOCAMBIQUE". The Grade 2 students asked him many questions about his life and work. 
During the interview, he said that his most important article was in 2000 during the big floods. It was very risky but worthwhile. The second most important one was in 2013, when he and his colleague covered the army's attack on the RENAMO's base in MUCHUNGWE. Following the attack, the RENAMO's soldiers attacked the local police base. They had to stay up all night. Around 4am they heard many gun shots. There were 5 dead police officers and 1 other wounded. 
The journalist's name is Bernardo Alvaro, He is 44 years old and has a 22-year career in Journalism. He is also an environmentalist and an ex-priest, and has won a prize from UNICEF for an article he did about children's rights.
Alexander P. Dods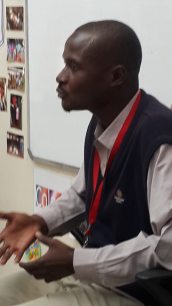 JORNALISTA VISITA A SALA DO 2º ANO , ACADEMIA AGA KHAN MAPUTO 
Hoje dia 6 de Maio de 2015, veio um jornalista à nossa sala de aulas , o seu nome é Bernardo Álvaro, e trabalha para o Jornal Canal de Moçambique. Tem 22 anos de carreira e já viajou para vários países. Gosta e fazer jornalismo político. Já ganhou um prémio da Unicef sobre uma reportagem que escreveu sobre as crianças que passam fome.
Trabalhou para a agência Lusa e para a agência chinesa.
A noticia que ele mais gostou de escrever foi quando esteve nas cheias em 2000, no Centro de Moçambique.
Nós fizemos várias perguntas e o jornalista respondeu com entusiasmo , embora tenha dito que a vida de jornalista não é fácil ! 
Johanna Ferrão e Yunat Cuvilas