September has been election month at AKA Maputo. After an introductory assembly by the grade 8 students who talked about why having a Student Council at school not only helps us to develop leaders but also to take responsibility for our school, students in both the PYP and MYP put themselves forward to be representatives for their grade or programme.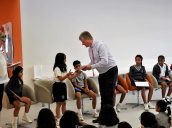 Before deciding who would stand in the elections, students discussed what they thought a good leader should be like. They decided that, among other things they would like their chosen representatives to be:
Responsible
Reliable
Honest
Fair
Kind and caring
Courageous
Good listeners
Well organised
Problem solvers
Good communicators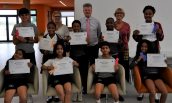 The students from grades 2–8 who participated in the elections wrote and gave speeches to their classmates and explained why they would be good members of the Student Council. Teachers commented about how excited students became as they prepared to speak and how seriously they took the process. After listening to the speeches by the candidates in each class or programme, every student, teacher and teaching assistant was given a ballot paper so they could vote in secret for the person who they thought would do the best job. It was a tense weekend as we all wanted to hear who had won.
On Monday morning in assembly, after congratulating everyone who had the courage to take part in the elections, the grade 8 students announced the members of our Student Council for the 2018-19 school year. They now face the exciting challenge of helping to run our school this year.
Congratulations to our new Student Council members:
Grade 1 and 2: Aahana
Grade 3: Shaaz
Grade 4: Aline and Alim
Grade 5: Emma
MYP: Johanna, Oldemiro, Carlos & Thayaka