Something new: Kitchen chemistry
The Academy arranged a chemistry show last month for students in grade 3 to grade 7.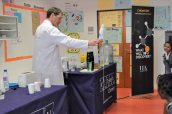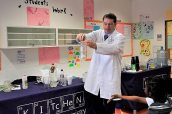 The show was conducted by Dr Stephen Ashworth from the University of East Anglia in the United Kingdom. He has extensive education in science education and is currently running workshops at SciFest in Grahamstown (South Africa). 
He presented chemistry experiments which can be done by children at home, using ordinary kitchen equipment. There were several experiments done in the show which were meant to show students basic chemistry principles, and to make them excited about science.
The chemistry show was a great opportunity for the students to be engaged with science beyond the classroom. The interaction with the presenter and the students was great. Students were excited to witness these simple experiments as these were related to the concepts they learnt in their classes. Some of the students also participated in experiments which added to their excitement. All the experiments were followed by explanations with examples from home.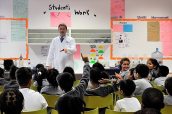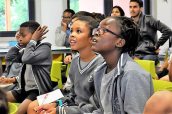 A escola organizou, no mês passado, uma demonstração de química para os alunos do 3º ao 7º Ano.
A demonstração foi conduzida pelo Dr Stephen Ashworth, da Universidade de East Anglia, Reino Unido, que tem um vasto conhecimento sobre a educação da ciência, estando presentemente a dirigir ateliês na SciFest em Grahamstown (África do Sul). 
O Dr Ashworth apresentou experiências de química que podem ser feitas por crianças em casa utilizando equipamento de cozinha comum. Através de várias experiências foi possível demonstrar os princípios básicos da química e despertar o interesse pela ciência.
Esta demonstração foi uma óptima oportunidade para os alunos se interessarem pelas ciências para além do contexto da sala de aula. A interacção entre o apresentador e os alunos foi muito boa, estando os alunos bastante entusiasmados ao testemunharem experiências simples  realcionadas com os conceitos aprendidos nas aulas. Alguns alunos puderam experimentar por si mesmos o que aumentou o seu entusiasmo. Houve uma explicação para todas as experiências com exemplos de como conduzí-las em casa.