Sharing the planet with animals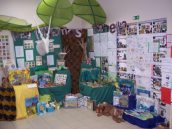 Grade 1 discussed how human interaction with the environment has an impact on animals. Their task was to examine the current development plan for the Aga Khan Academy Maputo and ask themselves how humans and animals share the planet. The children were asked to use data that they would collect all through the unit to define how the school plan would enable humans and animals to share the same space.
They used the scientific method to work through their inquiry, starting with a question, posing a hypothesis, collecting data and then analysing the facts to complete the assessment task. Skills such as data handling, graphing, thinking and researching were used. In this process, the children learnt about three concepts: responsibility, causation and perspective. They used tools such as 'thinking hats', the scientific method, inquiry cycle, the learner profile and the Aga Khan strands to help drive their inquiry and stay focused.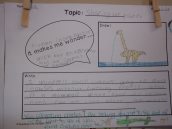 They made a visit to the Maputo Science Museum to start thinking about animal groups, their needs and habitats. They learnt about the animals living in Mozambique and surrounding areas. They then received a visit from Mr Tony Spicer who is the head of the design team for the Aga Khan Academies. He came into class to help them understand how the plan for the school was developed and how the school will be built, while considering the animals currently living on the site. The children completed a spider planner with questions for him relating to their central idea and key concepts and proceeded to interview him.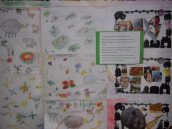 The children made some great suggestions including bird boxes, a green space, a wild area and a pond. They asked what would happen to the trees currently on the site and the animals living there. Mr Spicer was able to give expert advice and told the children that the plan is to try to avoid cutting down any trees, but to move them to other areas if needed. He also explained that many more trees would be planted and that a tree nursery was being created. He also explained to the children that some animals, like termites, would not be a good idea. He gave the students advice on where to look for ideas for bird boxes, but also expressed caution about trying to plan a pond due to the mosquito and malaria problem.
As grade 1 worked through this unit, they developed their understanding and built on their prior knowledge. Their new understandings will now help them to create more ideas and purposeful action in the future. Well done grade 1!