Over the last two months Grade 5 students and their mentors have been busy preparing for the PYP (Primary Years Programme) Exhibition on Microorganisms. After a lot of preparation, the exhibition was ready, and when the doors finally opened during the month of May, it was to an amazing variety of student work. The quality of the research and the understanding of the inquiry process based on microorganisms and the effect they have on human life particularly here in Mozambique, was – as many of our guests said – "truly outstanding".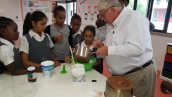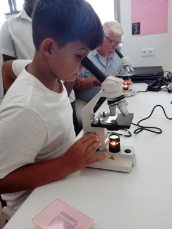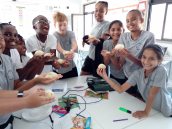 Students worked in pairs on different topics, preparing their own central idea to achieve a set target. One group did their inquiry on HIV and another did theirs on malaria. Other groups talked about preventing waterborne diseases in Mozambique and about different types of bacteria that can be useful and harmful for human lives.
This exhibition was open to our school community, friends and families, our associates and potential parents. Students from other schools also visited the exhibition to learn how the whole cycle works. It was a great achievement for our year 5 students, preparing them to be part of the Middle Years Programme (MYP) next year.
Ao longo dos últimos dois meses os alunos do 5º Ano e respectivos mentores estiveram bastante ocupados com a preparação e execução da Exibição do PYP sobre Microrganismos. Depois de muita preparação, a Exibição ficou pronta e abriu as suas portas durante o mês de Maio, demonstrando uma enorme variedade de trabalhos feitos pelos alunos. A qualidade da pesquisa e a compreensão do processo de investigação baseado nos microrganismos e o seu efeito sobre a vida humana, especialmente aqui em Moçambique, foi, como referiram alguns dos convidados "verdadeiramente excepcional". 
Os alunos trabalharam em pares explorando diferentes tópicos ao redor de cada uma das suas ideias centrais no sentido de atingir determinados objectivos. Um grupo debruçou-se sobre o tópico do VIH (HIV) e outro sobre a malária. Um outro grupo explorou a questão da prevenção das doenças contraídas através da água em Moçambique enquanto que outros investigaram sobre diferentes tipos de bactérias que podem ser úteis mas também nocivos para a vida humana. A exibição esteve aberta à comunidade escolar, aos amigos e familiares, aos nossos parceiros e potenciais famílias. Tivémos também a visita de alunos de outras escolas com o objectivo de perceberem como funciona o ciclo da investigação. Foi uma agrande conquista por parte dos alunos do 5º Ano e uma boa preparação para a sua integração no MYP a partir do próximo ano lectivo.