President of the Republic of Portugal visits the Aga Khan Academy Maputo
President Marcelo and the visiting delegation were welcomed by Michael Spencer, Head of Academy at the Aga Khan Academy Maputo, Nazim Ahmad, the Ismaili Imamat's Diplomatic Representative to Portugal and Mozambique; Mhamud Charania, Chairman of AKES Mozambique and Amin Rawjee, President of the Ismaili Council for Mozambique.
Head of Academy, Michael Spencer said, "The Aga Khan Academies are dedicated to developing an understanding of leadership, so for our students to meet the President of Portugal was very exciting. His Excellency was so generous with his time and wisdom; he shared real stories of his leadership experiences which our students found both fascinating and inspiring."
"His energy and humour were also very much appreciated and we will be reflecting upon his thoughtful and wise words for weeks to come. We hope that the President will come back again soon as he has many new friends at AKA Maputo!"
The President also interacted with students of the Academy in both Portuguese and English, who were delighted to play a part in his visit to the Academy.
"Interacting with the President of Portugal was a good learning experience for me" shared eighth grade student Oldemiro Juliasse. "I learned that being a President is just not about becoming famous or doesn't mean living in a big house. It is about managing a country and ensuring that the nation is prospering. I also learned how a President has to manage his time and how he sacrifices his personal and family time to ensure safety and security of the nation. I feel privileged interacting with him, as being such an important person, he still took out time to meet and share his experiences with all of us!"
The Aga Khan Academy Maputo provides a world-class education to exceptional students who possess strong leadership potential to support positive development in their societies. Admission to the Academy is based on merit, and financial aid is available to ensure access for students with demonstrated need. Pluralism is a core value of the educational programme at the Aga Khan Academy, whose student body reflects talented young people from all backgrounds within Mozambique, Africa and across the globe, regardless of their socio-economic background, faith, origin or gender.
The Aga Khan Academy Maputo is an International Baccalaureate (IB) World School, offering an IB curriculum that is locally rooted and globally relevant. Since its inception, the Academies Network has graduated over 1,000 future leaders who consistently earn places and scholarships at the world's top universities. In December 2018, the Academies marked 15 years since its founding. 
Additional Photographs 
President Marcelo Rebelo de Sousa is welcomed to the Aga Khan Academy Maputo by Michael Spencer, Head of Academy (left) and Nazim Ahmad, the Ismaili Imamat's Diplomatic Representative to Portugal and Mozambique (right). Photo: Otto Evandson / AKDN
President Marcelo Rebelo de Sousa in conversation with students during a visit to the Aga Khan Academy in Maputo. Photo: Otto Evandson / AKDN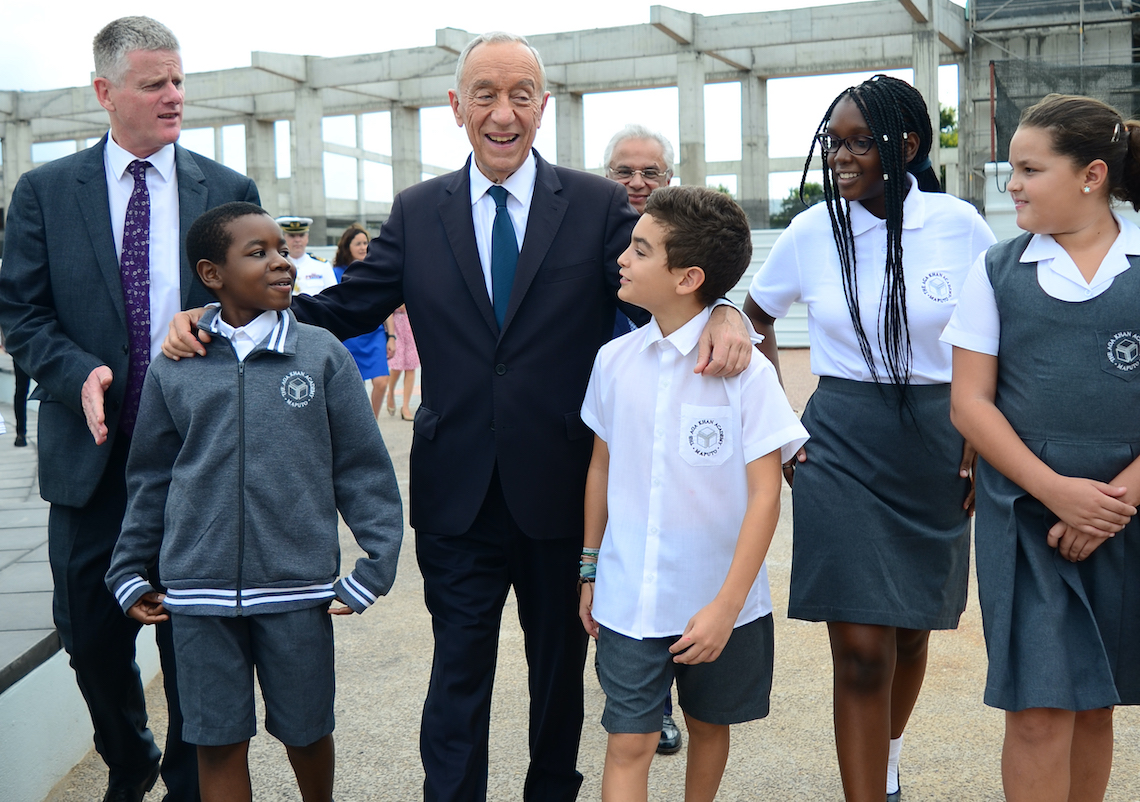 President Marcelo Rebelo de Sousa shares a light moment with students of the Aga Khan Academy Maputo. Photo: Otto Evandson / AKDN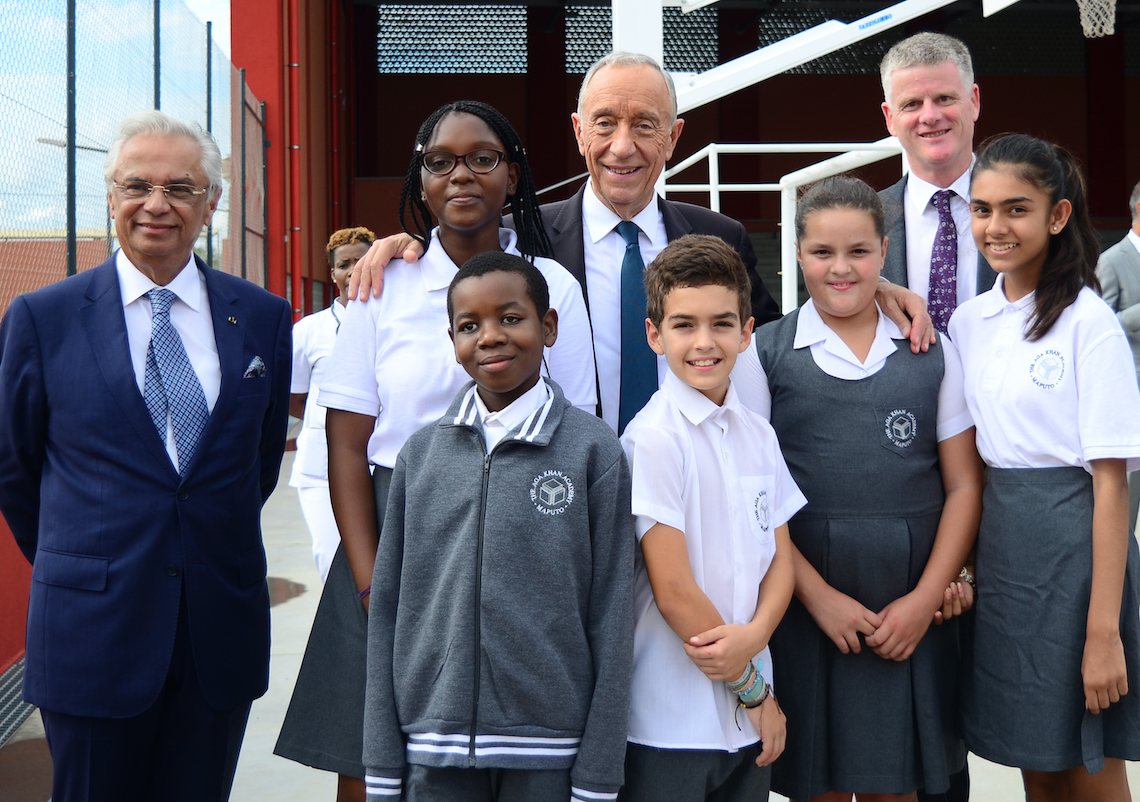 President Marcelo Rebelo de Sousa poses for a group photo with Michael Spencer, Head of Academy, Nazim Ahmad, the Ismaili Imamat's Diplomatic Representative to Portugal and Mozambique and a group of students from the Aga Khan Academy Maputo. Photo: Otto Evandson / AKDN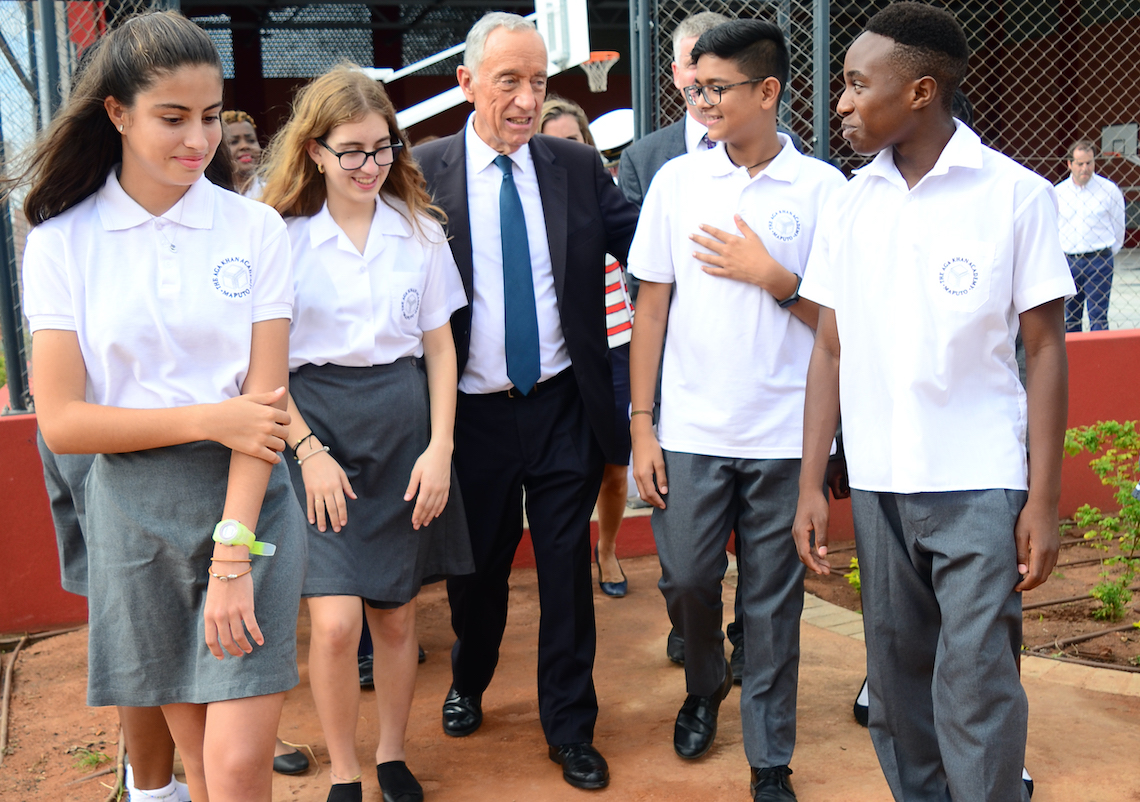 President Marcelo Rebelo de Sousa interacts with students during a visit to the Aga Khan Academy Maputo. Photo: Otto Evandson / AKDN