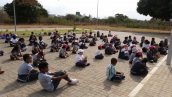 Last week all students experienced an outdoor yoga session exploring the brainwave training technique.
The main objective was to expose children to a different type of sport, a specific yoga activity based on a technique that allows the person to relax, improve health and enhance creativity.
Na semana passada os alunos experimentaram uma sessão de ioga ao ar livre explorando a técnica do brainwave training.
O objectivo foi o de expôr as crianças a uma forma diferente de praticar desporto, uma técnica específica de ioga, esta técnica permite à pessoa relaxar, melhorar a saúde e também despertar para a criatividade.