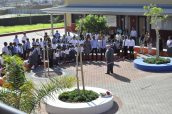 17 January 2018 – a milestone achieved!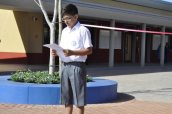 On this day, the Junior School campus of the Aga Khan Academy Maputo came into physical existence as a part of the commitment of the expansion of the project to provide excellence in education in Mozambique.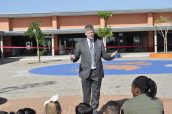 Representative of the Aga Khan Development Network, Mr Rui Carimo and the chairperson of the Aga Khan Education Service, Mr Mhamud Charania joined the ceremony along with parents and associates of the school community. It was also a privilege to have the Senior Manager Property Development for the Aga Khan Academies network, Mr Tony Spicer and his team at this very special occasion.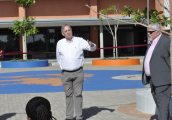 The ceremony was led by the Junior School Principal, Mr Nicholas Manley and started with the Mozambican national anthem. Followed by the anthem was a speech given by the very first student to enrol at the Aga Khan Academy Maputo, Areesh Rehmani who is currently in Grade 6 in the Middle Years Programme. He shared his journey of learning with other students, which was very inspirational. The Head of Academy, Mr Michael Spencer then expressed key aspects of the vision of His Highness the Aga Khan, adding some important details from the history of the Academy. He also talked to students about being responsible, which is one of the qualities of the International Baccalaureate learner profile at the new campus. After the address of the Head of Academy, Tony also shared some important timelines related to the project with the audience.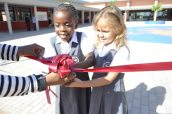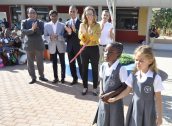 A ribbon-cutting ceremony was undertaken to mark the official opening of the newly-constructed Junior School campus. Students from Kindergarten 3 and Grade 1 did the honour of cutting the ribbon. This ceremony also provided an opportunity to thank co-workers, students, parents and other associates for their continuous commitment towards the project.