Living and Non-living Things
They concluded that living things are born, they grow, feed and multiply themselves, and then they die.
They searched in magazines and newspapers to find examples of different kinds of living and non-living things and made some impressive collages.
Good work Kindergarten 3!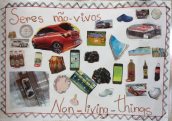 Seres Vivos e Seres Não Vivos
Os alunos do Pré 3 estiveram a reflectir sobre o que são seres vivos e seres não vivos.
Concluiram que os seres vivos nascem, crescem, reproduzem-se, morrem e alimentam-se.
Procuraram em revistas e jornais diferentes seres vivos e diferentes seres não vivos.
Bom trabalho Pré 3!