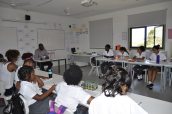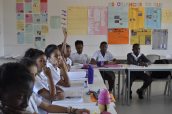 Grade 6 and 7 students were privileged to receive a visit from Mr. Nicolau, who now teaches at a public school but who once lived on the streets when he was a child.
He spoke to our students about how he became a street child, the difficulties he experienced and how he overcame them to become a teacher. The students asked lots of questions and Mr. Nicolau gave some suggestions about what we can do to help street children. He advised them not to give money, which our students were surprised to hear from someone who had lived on the streets but he went on to explain that giving children something to eat helped to ease their hunger. He shared how he survived on the streets before explaining how he managed to eat and find somewhere to stay. 
Eventually, Mr. Nicolau found his way to Casa do Gaiato where he was able to get the education that he needed to be able to change his life.  It was very clear that education is very powerful as it helps people to be able to help themselves. We look forward to inviting Mr. Nicolau back again in the future so we can share our ideas for a project with him.