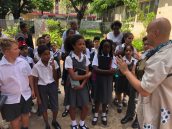 The Aga Khan Academy Maputo recently hosted the environmentalist, Carlos Serra.
The purpose of his visit was to raise awareness among the students about recycling garbage.
He explained the importance of the 7 Rs: 
Rethink, Re-use, Recycle, Refuse, Reduce, Recover, and Re-use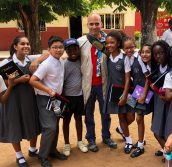 It was a memorable day for the whole school community, with a lot of learning and interaction among the students and the environmentalist. Carlos also shared some idiomatic expressions like: "Garbage of the floor, NO", "My school is a garden", "The environment in our heart never burns garbage" and "Doing nothing is NOT a solution".  
Carlos also suggested developing a programme with other primary schools in Maputo around the theme of ZERO WASTE, challenging the art teachers and students to participate and make sculpures or other works of art.
"Plastic is very important, but the way we use it is wrong. There is no garbage, everything is a resource and can be reused" commented Carlos in his concluding remarks.