Cultural and Comedy Show - Gamesboy 18
The students of the Aga Khan Academy Maputo in grades 3-8 were lucky to be entertained by Australian game collector, Sean Murphy.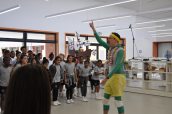 Sean Murphy makes people laugh all over the world. Based in Sydney, Australia, he has toured everywhere from Singapore to Scotland. Featured at the Melbourne Comedy Festival, Sydney Opera House and Queen's Baton Relay events, Sean's shows are built from the ground up for adults and kids aged 8 to 14.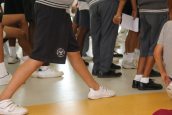 A fan of interactive games that encourage young people to stop playing computer-based games, Sean has spent the past year travelling throughout the Commonwealth and visiting schools. At its heart, Games Boy 18 is a cultural exchange programme all about sharing the possibilities of play through the universal language of FUN.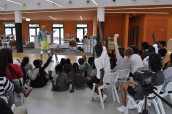 Sean visited the Aga Khan Academy Maputo in November to hold this cultural exchange programme with our students with the motive of sharing some of the games that he has learned while travelling across the world in his funny and entertaining show and also to learn some Mozambican cultural games from our students. From this programme, our students learned to play games from Fiji, New Zealand and England, and later during the programme, our grade 4 students shared some traditional games from Mozambique with him.
Students described the event as lots of fun, and it encouraged them to get more involved in games and physical activities. Some students have started to play different traditional games that they learned from the show along with the ones from Mozambique.
To see our gallery of pictures from the event, please click here.