Celebrating World Book Day at the Aga Khan Academy Maputo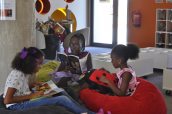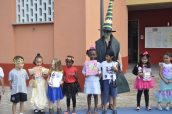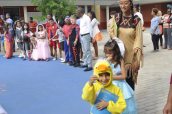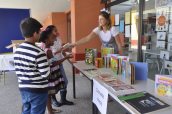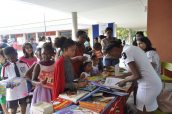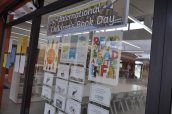 The Aga Khan Academy Maputo celebrated World Book day with a variety of exciting literacy events.
On 23 April 2018, students took part in a stop, drop and read challenge to celebrate World Book Day marking the Global Action Week for Education. A whistle blew and everyone took their books and read for a minute. This was an exciting reading event that promoted reading skills and short sustained reading. This event was organised with a motive to encourage students to realise that reading does not have to be a long challenge – it can be quick and exciting.
Students were asked to choose their favourite book character and come dressed for a character parade. This took place in the library and was a great display of creativity and love of literature. The books children chose were diverse and showed a mix of Portuguese and English-language stories. A big focus for us at the school is promoting meaningful action as a result of our students' inquiries. Every unit helps to develop both language and literacy skills.
We are so fortunate in our school to have a well stocked library and diverse array of literature. However, this is not the case for many who live in Mozambique. One of the centres we often visit to promote creative development is Mozart. This is a learning centre for the local community which promotes art as a way to develop creativity and self-sustainability. They have just set up a new initiative to promote reading. They have a small lending library which has a very limited number of books. Aligning with the mission of the Aga KhanAcademies to support education in our local communities, all of our staff and children brought books from the Book Fair, also held on World Book Day, which were then donated to Mozart's lending library.
This action shows our community's empathy and willingness to support those less fortunate than ourselves.  We hope this will be the start of a shared vision which could lead to our older students reading on a regular basis with non-readers at the centre. In time, we hope there can be a lending library based on the idea that you bring a book and take a book, to promote growth and sustainability which are so important for a project to succeed in the long term.