Celebrating 5 years – 2013 to 2018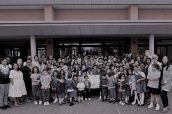 The Aga Khan Academy Maputo celebrated its fifth anniversary with students and staff during the month of August. The Academy opened its doors in August 2013 with its lower primary school and is now up and running with its Junior School campus. The residences and the remainder of the Academy's purpose-built campus are in the process of construction.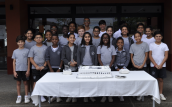 A special assembly was organised to commemorate the fifth year. During the assembly, the very first students to enrol at the Academy were acknowledged together with the first staff members who are still with the school as a part of the Academy family.  During the assembly, the Head of Academy shared some very interesting work from the first day of school with the students, which really inspired them to think about the mission and the vision of the Aga Khan Academies.
No celebration is complete without a treat!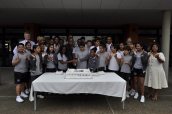 A cake cutting ceremony took place on Friday the same week to mark this very special occasion. The whole school, including students and staff members, were a part of this ceremony and shared this treat to make it a day of remembrance.
At this very special occasion, the Chairman of the Aga Khan Education Services – Mozambique shared his thoughts and wishes with the whole school:
Message to Celebrate the Fifth Anniversary of the Academy
On the Fifth Anniversary of the Aga Khan Academy Maputo, I think it is important to reflect on where we started, take into account where we are now, and continue to develop our vision for the future. I am simply amazed by the growth of the school as I have watched it flourish from the foundation ceremony to today.
Our professional teaching staff is motivated and passionate and our students are eager and ready to take up challenges. While in the future, we are sure to face many challenges, I have confidence that our students, staff, parents, and community can scale new heights as we have done in the last five years.
Congratulations and best wishes to the Academy for achieving this milestone!
Mhamud Charania
Chairman of the Board – The Aga Khan Education Services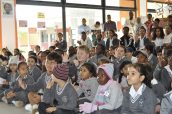 A special edition of the school newsletter was circulated on this special occasion. This newsletter has contributions from many who have been closely involved with the Academy since it started. Below are the links to download the English and Portuguese versions of the newsletter.

5thAnniversarySpecialEditionEng.pdf

5thAnniversarySpecialEditionPt.pdf