Art Exhibition 2019 at AKA Maputo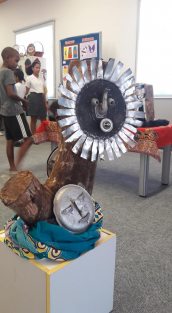 After a year of inspiring creativity and hard work developing skills, AKA Maputo's MYP students were pleased to exhibit their artwork at the end of the school term. 
Their well curated exhibition consisted of works from all units completed during the current academic year, and included the following art forms: sculpture, painting, mixed media and drawing. Arts are an important aspect of education at the Academy, with students this year studying units on cave painting, masks, collage, color theory, mixed media and Mozambican art & appreciation. The students' art books were also exhibited, enabling their audience to understand how they had developed ideas and their inspiration for doing so.  
It was lovely to see the interaction between the students and their audience, as they were able to explain processes and techniques used to make the art on display, including the repurposing of recyclable material. Parents were able to take part an interactive section and tried to develop some of the skills that students have learned this year.  As these students have developed their skills over time, their confidence has increased to - which was evident by the pride with which they displayed their work! Well done students!