AKA Maputo hosts mathematics workshop for parents with Karim Ismail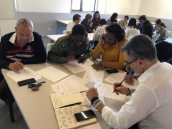 On Wednesday, 21 August 2019, the Aga Khan Academy Maputo hosted an innovative maths workshop, lead by mathematics specialist Karim Ismail.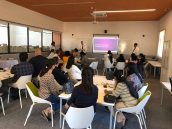 Karim begun working with the Aga Khan Academies in 2011, having trained as a mathematics specialist in the United Kingdom. He is now a teacher-trainer for the International Baccalaureate (IB) and works across the Aga Khan Academies network to help enhance mathematics teaching and learning. His previous roles include engagements in India, Kenya, Uganda, Tajikistan and across Europe. Karim was also Vice-Principal in a school in the UK.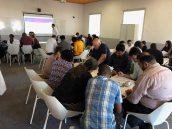 The workshop was organised with the aim of helping parents to support their children in their academic journey of mathematics, and was focused on the early stages of mathematics development for any child. The workshop was a great introduction to various techniques which parents can use to help support their children's learning in their primary years. The workshop also highlighted the importance of building strong foundations in mathematics to ensure students are confident in the subject as their education progresses.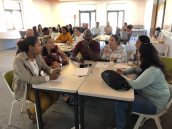 This inaugural session also gave parents the opportunity to share their experiences and challenges in teaching the subject at home - as well as providing them with practical resources and tips to help tackle these challenges going forward.
We were happy to receive immensely positive feedback on the workshop - as many parents came to the realisation they share similar concerns on teaching at home, and will hopefully be able to work together going forward in order to be fully comfortable in the subject of mathematics.
We look forward to hosting similar workshops in the future, expanding to additional subjects in the future.