Acclaimed writer Mia Couto visits the Aga Khan Academy Maputo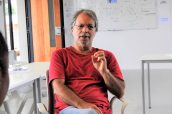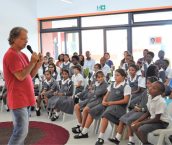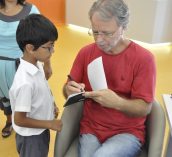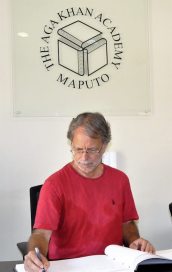 On 25 January 2017, the famous poet and writer, Mia Couto visited the Aga Khan Academy Maputo to speak to students, staff and parents.
Earlier, Academy students had read one of Mia Couto's books, Contos do Nascer da Terra, as part of their study of Portuguese literature, and so were very interested to learn more about the author.
After a short school tour, the Portuguese subject students had an information session with Mia Couto, followed by another session for the wider school community and parents. Here, the author talked about his life, followed by time for questions.
This visit was an opportunity for everyone to get to know more about the internationally acclaimed Mozambican writer and his books. The visit inspired students and motivated them to build their love for reading and writing, which is a fundamental element of the Academy's curriculum.  
During the visit, Mia Couto said that "I am here re-learning what a school is. I see that we learn better by playing. Today the students are happy because the school combines play and learning well. Learning also comes through reading and by storytelling. And the school is helping students by showing them the enchantment of books."
The Head of the Aga Khan Academy Maputo, Michael Spencer said, "This is the first week that the Aga Khan Academy Junior School Library is open and the visit of such a prominent Mozambican author, Mia Couto, has marked the first visit to our library, making this a special day for all of us."
The visit ended with an autograph session and the signing of the Academy's Honour Book by Mia Couto.
Please click here to see a photo gallery of Mia Couto's visit to the Aga Khan Academy Maputo.