Sneak Peek into Arts Week 2017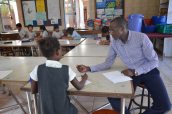 Students draw pictures of what they think the future will look like. The 2017-2018 Arts Week has commenced in preparation for the annual Junior School production. An array of enrichment clubs come together on Mondays and Tuesdays after school to discuss, plan and prepare for the production. This year's theme of ancient civilisations falls under the Aga Khan strand of culture and touches on some African and the Indus valley civilisations. In particular, we will look at the kingdoms of Aksum (Ethiopia), Ghana, Benin (Nigeria), Swahili, the Zulu kingdom  and the Indus Valley civilisation. As with previous years, these are explored through interest-based enrichment club groupings that bring together students from different classes. This year, they include technology and background, costumes, drama, movement, music, and art. Through these clubs, students not only get to work within their respective areas of interest but get the opportunity to discover their own unique artistic talents while also learning new skills and concepts.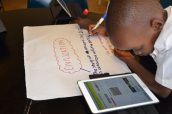 Student uses iPad to research about civilisations. Two weeks ago, the students were introduced to this year's Arts Week concept through our whole school assembly, after which they selected and were assigned to a group. So far, each group has explored the concept of civilization through a provocative documentary and short film, and have held discussions and brainstorming sessions in prepration for the production. For instance, the drama group, who are the main scriptwriters, thus the backbone of the production, held fruitful meetings that resulted in an exciting story line. This was shared with and approved by the rest of the Arts Week committee members who also contributed an idea or more to spur them on. The costumes group, while watching the documentary, took note of the different types of clothing seen amongst the different civilizations being explored. They will then come up with designs based on these observations, to be used by the cast. The art club analyzed these civilisation's structures and society and explored the question of what the world will look like 100 years from now. They also came up with tentative ideas of what their group's contribution would be. The movement group explored and practiced dances from different traditional cultures. While the music group is refining their choice of songs, carefully composing their lyrics and warming up their vocal chords, the technology and backdrop group is currently in discussion as to the most effective way they can use sound and visual effects to portray each scene using light, sound, backdrops and ICT tools.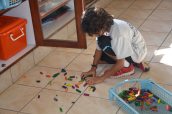 Student cleans up after a day filled with arts. Overall, students across all clubs pondered on what being civilised truly meant and shared the misconceptions surrounding African civilisations. They aim to break these misunderstandings by accurately portraying the profound cultures that the African continent holds as well as thinking about what our individual duties are in creating a bright future for all societies and cultures.
The production will be taking place at Aga Khan Academy Mombasa on 1 December 2017 at 7:00 pm at the Commons. Stay tuned and hope to see you there!