AKA, Maputo Construction Process Begins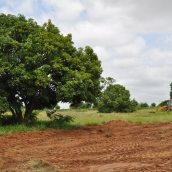 Today marked the beginning of the construction process of the Aga Khan Academy, Maputo. Site clearing work began in preparation for construction. Casais Engenharia e Construção, one of the largest Portuguese contractors, which has been in existence for over five decades, was awarded the contract for this first phase.
Initial construction, which will include classrooms, an administrative area, and an enclosed exterior play area for the children, will enable the Academy to open its doors in August 2013 for students in K3 (5-year-olds) and grades 1–3 (6–8 year olds). Student evaluations will begin in February 2013.