Swaleh Michael Ouma (Class of 2009): Striving to Make a Positive Impact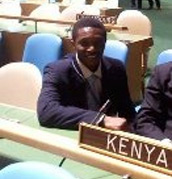 Swaleh Michael Ouma feels that his Academy experience enhanced his leadership, time management and academic skills. "These skills were essential in both my university academic field and overall university experience," he says. Swaleh graduated from the Academy in 2009 and is currently studying Law (LLB) at the University of Reading, England. He is also working as an Officer Cadet for the British Army. This is Swaleh's final year at the university, and he will be graduating in July 2012.
In addition to his academic work, Swaleh founded the Reading University Model United Nations Society (RUMUN) and is currently its president. The RUMUN was awarded the best society of the year under Swaleh's leadership. He is also a Vice-President of the Reading University Student Union Societies Convention, which is a forum made up of the presidents of all societies.
Swaleh represented his university as the head delegate at the Bath MUN Conference, Nottingham International MUN Conference, London International MUN Conference (largest conference in Europe with around 1,000 participants from all over the world) and New York National MUN Conference (largest conference in the world with around 5,000 participants from over 300 different universities).
The values Swaleh acquired from the Academy have fueled his passion to work towards fostering better policies to uplift the lives of Kenyans. He plans to go back to Kenya immediately after his graduation to be involved in community projects, civil society and politics. Upon his return to Kenya, Swaleh says, "I would focus on empowering people in Kenya to realize their full potential as talented human beings, especially young people who need to be nurtured and given the right resources and opportunities to do this."  He also wants to work towards uplifting the lives of disadvantaged Kenyans, including people who are disabled, the elderly and street children. "Most importantly, I would focus on creating an atmosphere where businesses can flourish, people can live a dignified life and exercise their legal rights and freedoms," Swaleh says confidently.
Swaleh appreciates the counseling services that he received from the Aga Khan Academy, Mombasa. He found the process of choosing the best university well informed, and he says gratefully, "I got awarded a full scholarship from the University of Reading and other scholarships from other universities, thanks to the excellent service offered by the Academy."
He also feels that the International Baccalaureate (IB) curriculum he followed at the Academy gave him an upper hand in being able to manage his time well to fit both his academic and co-curricular commitments. "I had an easy time doing academic presentations. I had an easy time conducting campaigns to run for various university positions and leading the team. Most importantly, in comparison to other students who did other programs, I easily adapted to essay writing, which most students took months to get into the rhythm of, " says Swaleh. "The Aga Khan Academy, Mombasa experience is definitely very unique from other schools, since I have interacted with many students from other schools, even students who have done the IB program in other schools all over the world, and my absolute conviction is that the experience at AKA, Mombasa was truly exceptional and excellent," he says.
Swaleh has fond memories of the Academy. One of his unforgettable experiences was his school expedition to climb Mount Kenya, just a few months before going to England, which he felt helped him deal with the UK's cold weather. "The thing I miss the most are the teachers, whom I had a close relationship with, former classmates, the IB experience and the morning assemblies", he says nostalgically.