Livia Clandorf (Class of 2013): Striving for Social Change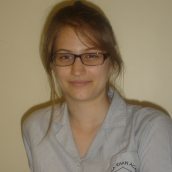 Livia Clandorf is no ordinary teenager. In April 2011, Livia was contemplating her future studies as a 16-year-old in Albany, New York. She had applied to a number of sixth form colleges, but stumbled across the website of the Aga Khan Academy, Mombasa. She was taken by the vision of the school—to develop ethical leaders who are committed to giving back to their communities. She was also interested in studying the International Baccalaureate Diploma Programme, to improve her chances of admission into the top universities in America. The thought of studying and living with people in a diverse community, people from vastly different circumstances than her own, really appealed to her. She felt that there was so much happening in Africa, and she wanted to go to school with students from Kenya, to hear what they have to say about the different issues the continent is facing. Livia has just graduated from the Aga Khan Academy after nearly two years at the school.
Livia believes that there are three ways a person can experience the world—by reading about it, by hearing someone else talk about their experiences, or by experiencing the world at first hand; she chose the latter. Her dream is to work for the United Nations or the World Health Organization, and this influenced her desire to come and study in Kenya.
The Aga Khan Academy, Mombasa aspires to nurture students who are inquirers, thinkers, good communicators and knowledgeable. The Academy admitted Livia because, as well as displaying these attributes, she already showed signs of being a principled leader who was interested in leaving the world a better place. In 2010 Livia was voted International Youth Advocate of the Year by the Campaign for Tobacco Free Kids in Washington USA. No cultural barrier or distance—or even loss of funding for her own community's tobacco control organisation—impedes Livia's determined and global campaign against tobacco. In addition to meeting with state legislators and exhibiting at numerous health fairs, school and community events, Livia also travelled to Mumbai, India in March 2009 to attend the Global Youth Meet & World Conference on Tobacco or Health. She organised a letter-writing campaign to India's health minister to protest against smoking in movies. April Schweitzer, the Associate Director for Youth Advocacy in New York said that "Over the last six years, I have had the opportunity to work with literally thousands of youth who are committed to tobacco control. I have presented to them, held rallies with them, slept in dorms at summits and participated in countless ice breakers alongside them. Out of the thousands, there is only a handful that I would recommend as highly as Livia Clandorf. Livia truly stands out above the crowd. She is a natural leader who possesses the skills, judgment, maturity and vision that is rarely seen in such a young adult. She is not just a potential future leader, she is already a leader." Livia is passionate about changing community norms regarding tobacco usage. She has stood out from her peers in this area and has brought passion, commitment and resourcefulness to the work.
Livia has been very involved with service programmes that link the Aga Khan Academy with the Mombasa community. She sees the contributions that she has made to the community in an entirely different context—as one of the most enjoyable aspects of her time in Mombasa. In the Diploma Programme students must complete at least 50 hours of community service to qualify for the Diploma. Many students, like Livia, end up devoting much more time to this part of the programme. Livia has also been very committed to the Model United Nations club at the Academy. At the East African Model United Nations (which comprise simulated sessions of the General Assembly; Security Council; Ecology and Environment, Economic, Health, Human Rights, Political and Technology committees in which students represent the delegates from member countries) held at Gigiri, Nairobi, Livia won the Terry Howard Award that is given to students who have an excellent knowledge of their topic, as well as good debating and diplomatic skills. Livia is passionate about public speaking and has taken every opportunity to improve her skills. As she puts it, "Public speaking enables me to not just make a difference to a whole community, but it has a wider impact and you have the ability to directly shape current society on a grand scale for future generations."
Livia has received a scholarship to attend the high-ranking Dartmouth College in the USA and will be studying International Relations.