Khadija Dohry (Class 2012): Bridging Diversity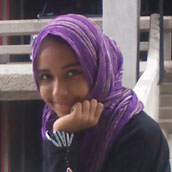 "I am greatly interested in development, and my dream is to root poverty out of African societies by promoting good quality education for the less fortunate so that they can change the face of our society. Having done the IB programme, and with the skills it has equipped me with, I feel that I am in a position to bring the Kenyan vision 2030 much closer."
Khadija Dohry graduated in 2012 from the Aga Khan Academy, Mombasa as the valedictorian of her class. She plans to serve as a diplomat in the future and has received a full scholarship from the Turkish Government to study Political Science and International Relations at Marmara University in Istanbul, Turkey.
As a bilingual Diploma graduate Khadija feels privileged to have done the IB at the Academy. She feels that it is a unique programme, led by wonderful teachers who fuelled her passion for addressing social issues and urged her to take up leadership roles in and out of school.
Khadija worked with the Academy as an Admissions Intern in the summer after her graduation. During the previous summer she was involved with the Madrasa Resource Centre (MRC), Kenya for six weeks and focused on renovating a school playground and setting up a mini library. By working collaboratively with community members and raising funds, the project was successfully carried out.
As part of the project, Khadija took advantage of available resources to develop books for children in creative ways and taught local teachers how to make library materials at no cost. She also organised an IT workshop with the teachers to hone their computer skills. Her interaction with local community members gave her an insight into the problems they face, including gender inequality resulting in lower rates of high school education for girls.
Her education at the Academy gave her the confidence to address the issues of neglect of the girl child and equality for women. She says, "AKAM really makes you an exceptional student. It is a fit place for anyone who is willing to explore their full potential and discover who they really are and what they really want to become in the future." Khadija worked with the Kenya School Improvement Programme (KENSIP) and MRC in establishing a parents' forum as an outreach project. Through this forum she addressed local women on issues of early marriage and setting milestones for their children.
These successful initiatives gave Khadija the confidence to volunteer further with the MRC and the Aga Khan Agency for Microfinance, where her dedication and hard work was appreciated by her supervisors and fellow members.
While on summer break, she was asked to help facilitate for a group of Taiwanese students who were visiting Mombasa to undertake community development projects. She and three fellow AKA, Mombasa students worked with the local Madrasa Resource Centre to coordinate the service work of the Taiwanese group.
Each facilitator was assigned a group of students to work with, and Khadija's group worked in Mwakirunge-Bamburi, 50 minutes away from the Academy. Being the team leader required Khadija to plan out activities. Since the cultural aspect was important, she ensured that the students had numerous activities such as skits, dances, songs or outdoor activities to teach to the children in Bamburi. This gave the Taiwanese students a flavour of the local culture and helped convey the beauty of diversity.
Khadija acted as an intermediary between the Taiwanese students and the local children and translated between languages, which allowed the Taiwanese students to teach successfully. The local children spoke in Rabai, their mother tongue, which their teacher translated into Swahili for Khadija who would then pass it on to her group in English. She also assisted them in their discussions with teachers, parents and community members. 
Khadija found her group of Taiwanese students to be energetic, intelligent and inquisitive and open to suggestions. She worked with them to the best of her ability, always ensuring that their needs were catered for and they were at ease. On the final day, she was approached by the Taiwan agency director who thanked her for her support and invited her for a summer internship in Taiwan next year. The general manager was impressed by Khadija's work and the manner in which she supervised her group of students and felt that the experience given to the students from Taiwan was exemplary.
Khadija was extremely proud and happy to hear such glowing reviews. She said, "I feel that the school [the Aga Khan Academy, Mombasa] believed in me the moment they offered me a place with 100% support and all I wanted to do was prove to them that they made the right decision. I can proudly say, 'Yes, I proved that!' And I am now going for the stars."