Kelvin: Setting High Goals
The space that you are given for studying and the people around me, make me feel more comfortable and focused.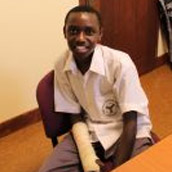 Kelvin is a residential student in DP2, who moved to Nairobi with his family after growing up in the Eastern Province of Ichihara District.
Kelvin's favorite aspect of the Academy is no doubt the academics. "We get to learn more," he explains. "The space that you are given for studying and the people around me, the teachers and kind friends make me feel more comfortable and focused. The teachers are more fun and I admire the way they teach."
Kelvin previously attended another boarding school, but when he arrived at the Academy, he felt more comfortable and missed his family less because of the supportive atmosphere he found at the Aga Khan Academy, particularly the emotional support provided by the dorm parents. "They talk to you and ask you how your day has been or how you feel," he explains. "It shows that we have people who really care about us, so it makes us feel good."
Facilities at the residential hall, such as laundry, reduces the amount of extra work and allows Kelvin to "focus on one thing, that is education, and you can achieve it in a simpler, better way."
Kelvin also appreciates the structured schedule on weekends. In the afternoons, some time is set aside for community and service projects. Last year, Kelvin and his classmates visited an orphanage where the students provided children with food and also helped with basic chores like washing clothes and dressing the younger children. "We also visit older people," he says. "It is fun because they tell us about the history of Kenya. They were there when independence was being fought for."
Kelvin's goals for the future are high. "My role model is Martin Luther King, because I admire the way in which he was trying to unite the world. When I'm older, I want to be a World Bank director so that I can help institutions that really need help," he says.
Kelvin has already envisioned a path that would eventually lead him there. He plans to study in France, spend a few years working and then return to Mombasa. With that goal in mind, Kelvin has been brushing up on his French at the Academy, and hopes to graduate with an IB diploma. We wish him much success.