Jane Warutere: A Reflective Practitioner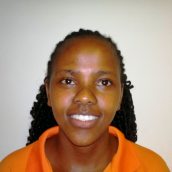 "Teaching at the Academy is not all about academic engagement with students."
Jane Warutere, a Physical Education teacher at the Aga Khan Academy in Mombasa, joined the institution in 2012, armed with a Bachelor of Arts degree in Education from the University of Nairobi, Kenya. 
The youngest of four siblings, Jane says she followed her parents' footsteps in making her career choice.
"My teaching career was inspired by my parents who are both teachers, and as I saw them support and mentor students through their academic journey, I wanted to do it, too. "
As a teacher, Jane has had many gratifying moments at the Academy, but there is one that she treasures the most.
"I recall many rewarding moments but one that stands out is when I saw the hockey team for the very first time qualify for regional games and also seeing students I have mentored being awarded as the best Middle Years Programme (MYP) students in their performances."
However, for Jane, who majored in Physical Education, being a teacher at the Academy is not only about academics and Physical Health Education (PHE).  It is also about engaging in contemplative practice with both students and colleagues that enables all involved to grow and learn and become well-rounded individuals.
"The Academy has helped me become a more reflective practitioner through feedback I receive from my students and colleagues and also through the interactive sessions in the professional development courses. Teaching at the Academy is not all about academic engagement with students but involves many other aspects like opportunities to support students in various areas of life through mentorship, sports, enrichment activities, residential life, collaborative planning with colleagues, team teaching and standardisation of students' assignments among many others."
According to Jane, one of the strong traits of the Academy is to seek to address various aspects of students' growth including intellectual, physical, relational and emotional. She states the Academy's various programmes, including the residential programme, incorporate a variety of approaches to help students blossom into healthy, sustainable adults eager to make a difference in the world.
 "The Academy stands out from other institutions through its focus on holistic growth of each student in the Academy and emphasis on developing ethical leaders. The residential programme is another enriching experience to our students: full of different opportunities for their social growth. For instance they have an opportunity to express their talents through different events like talent nights, cultural nights, community and service projects, and a residential sports weekend among many others."
These programmes, Jane says, also encourage young people from various cultures and backgrounds to learn to work and play together, while discovering and appreciating their differences and commonalties "and embracing different cultures."
Even in the PHE course that she teaches, Jane incorporates life skills development through social interactions and practice. This takes purposeful thinking and planning.
"I inspire my students by deliberately giving them lead roles in class group activities and also challenge them to join sports teams and take an active role in those teams. Through teaching of PHE, students learn to appreciate and respect the ideas of others and develop effective collaboration and communication skills."
The Academy's vision and forethought was what fascinated Jane and led her to apply for a position in the school. 
"The vision of the school to prepare young people to lead and enact positive change in the world they inhabit attracted me to apply for a position in the school. The Academy seeks to grow ethical, pluralistic leaders who will give back to their communities."
By Perviz Walji